21/05/2014
Today, at noon, a group of comrades made a solidarity intervention for anarchist Babis Tsilianidis, at the Center of Distribution of Research Results during a conversation in the context of a daily meeting organized by Aristotelio University and the University of Macedonia (PAMAK). One of the meeting's subjects was Applied Genetics and Biotechnology of the university's Biology section.
A banner was dropped at the scene, leaflets concerning the comrade's case were distributed and flyers were thrown.
Fire to biology labs
No cooperation with the cops
Solidarity to anarchist Babis Tsilianidis
25/05/2014
In last Sunday's afternoon, a solidarity intervention about the case of Babis Tsilianidis took place in Thessaloniki. Starting from HANTH park, where a "street party" was taking place, a group of comrades distributed leaflets across Thessaloniki's coastline, which was full of people. Hundreds of leaflets were distributed, fliers were thrown and a banner informing about the comrade's appeal court on the 5th of June was dropped.
Similar interventions took place in various areas of Thessaloniki, in the past few days: Kallamaria, Charilaou, Touba, Triandria, Olgas, Stratou, 40 Ekklisies, Evagelistria, the city center, Abelokipi, Kordelio, Neapoli, Evosmos. Banners were dropped in the major intersections and bridges of the city's ring road.
Bottles and stones on the cop's head, freedom to Babis Tsilianidis
---
Solidarity Call Poster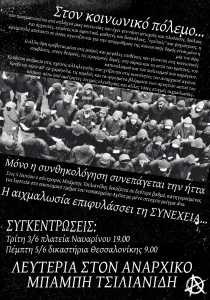 In the social war…. Which is carried out in the guts of a society that has given birth to rich and poor, slaves and masters, workers and bosses, students snd teachers, "crazy ones" and psyciatrists, oppression against those who fight for the destabilization of the social structurebis only one of its sides.
The other side is hidden in the small and big attacks taking place in the social conventions, institutions, hierarchical structures, the flesh an bones of the state, the capitalism and civilization they produce.
Its hidden between the solidarity relations built in the communities of the anarchist struggle.
Its hidden behind the smiles, the hearts and the rageful glances of the refusers of this world, behind numerous moments of freedom and equal moments of captivity…
Only compromise means defeat
On June 5th comrade Babis Tsilianidis Is tried on appeal for the robbery of the financial department of Ahepa hospital with a mixture of dna.
Captivity holds the CONTINUE
Gatherings: Tuesday 3/6, Navarinou square 19.00
Thursday 5/6, Thessaloniki courts 9.
FREEDOM TO ANARCHIST BABIS TSILIANIDIS